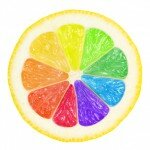 The colors on your blog are speaking to your visitors. Have you stopped to consider what they might be saying?
Below you'll find a couple of fascinating infographics with examples of colors in branding and what they represent.
Want to know more about how to choose the right colors for your blog or business? Join me and Kathy Swiderski this Thursday, September 26th at 2pm PT for a free brand therapy clinic: http://michelleshaeffer.com/brand-therapy/
Explore more infographics like this one on the web's largest information design community – Visually.

What colors did you choose for your branding and why?